Bio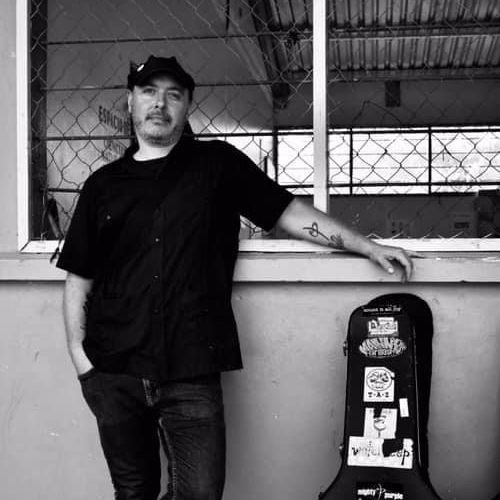 Stephen Peter Rodgers
Songwriter. Artist. Lover of life.
CT music scene icon Stephen Peter Rodgers is releasing a new album on Unfinished Hearts Records. Stephen is best known as the former founder & owner of the legendary venues The Space / Space Ballroom in Hamden CT which he operated for 15 years. Additionally Stephen was the frontman and co/songwriter for 90s-2000s indie rock band Mighty Purple. The band garnered critical acclaim and national success through 10 years of constant touring in support of the 7 albums they released. In 2020 Stephen had to change his public name from Steve Rodgers to "Stephen Peter Rodgers", due mostly to a variety of internet search conflicts and confusion with another musician also named Steve Rodgers.           
               Stephen, a lifelong songwriter, spent most of the pandemic hunkered down in his recording studio (Tiny Bunker Studio) writing songs, recording & restoring vintage keyboards and guitars. Stephen challenged himself to write and record one song per week for a year. Ultimately he ended up with 40 songs. Twelve of the songs will be included on the upcoming album "Speck On A Clover". The album title is a reference to the 1954 Dr Seuss book "Horton Hears a Who". The children's book tells the story of Horton the elephant and his adventures trying to save Whoville, a tiny planet, located on a speck of dust. "A person is a person, no matter how small" is the most popular line from the book. The line resonates with Stephen and in some ways is parallel to Stephen's journey, spanning 15 years as independent music venue entrepreneur transitioning into a full time songwriter and visual artist. After nearly 2 decades of championing & promoting local, regional and national bands of all genres, Stephen is now focused on his own music and art career. " I Unknowingly all but nearly lost my own creative spirit, in the venue business & process of giving others a platform in which to share their talent & music" says Rodgers. He continues on to say "If I could, there would be very few things I would change about the story of The Space, it was an amazing experience until forces beyond my control began to undermine my vision & mission there."  Space Ballroom still exists under different ownership and a different business model.
       The Album's title track "Speck On A Clover" is a piano driven, electro indie rock song with impassioned lyrics hinting at the singer's personal battles and triumphs. "No clouds here anymore, so sing it out , like a bird on a wire, searching for a speck on a clover"  sings Rodgers. The album is much different than Stephen's 2019 release on Horizon Music Group "Count It All Joy" (an acoustic album with hints of bluegrass and strong Americana roots produced by CT music legend Vic Steffens). This is the first album Stephen has produced for himself. 
Stephen noted "Following one of the darkest and most disappointing seasons in my life, I needed to prove to myself that I could record on my own. I have lived my life as somewhat of a luddite and finally decided to learn how to use modern recording technology. The whole experience has been freeing and has inspired me to create music in ways I never imagined" 
Songs, such as the first single from the album, "Real Life" harken back to the sonic history of the early Mighty Purple catalogue. Guitars with a shoe gaze flair, vintage Rhodes keyboards  and spot on driving drums (played by David Keith) lay the bed for lyrics about our human condition & the longing for living in peace with ourselves and with each other. Other songs on the album such as "Wish I Didn't Sway" are self-reflective and lonely, still anchored to the indie-americana mooring from Stephen's prior release. Dark southern gothic organ sounds form the underlayment for Rodgers husky voice as he sings "It's not what we drink but it's why we drink it, It's the thoughts that we sow and the actions which reap it".  There are two solo acoustic songs on the album, which stay true to Rodgers roots, The Song ``What I Am", a fast paced autobiographical anthem with unapologetic lyrics and an Irish twinge
Highly seasoned musicians who round out the songs on the album include, Seth Adam - bass guitar, David Keith (Blackmores Night)- Drums, Ben Dean (ex Caravan of Thieves)- Violin & Fred Dileone (ex Step-kids) on vintage synth & key bass. Stephen played Keyboards & Guitars as well as much of the bass and some drums on the album. This is the first album Stephen has made with almost no appearances by his brother and longtime Mighty Purple co/collaborator Jonny Rodgers (Cindertalk). However Jonny did mix & master the title track "Speck On A Clover". Much of the album was mixed and mastered by Sam Carlson at San Serif Studio in New Haven. The song "Back Into The Muddy River" was mixed by "Tim Walsh ex Step Kids" and the song "Self Talk" was mixed by Northampton, MA,  producer Nate Christy. Stephen says " I wanted to have others mix these songs because I was too close to them and wanted fresh ears with an unbiased perspective". The album cover art is a black and white painting by renowned artist Tyler Morris, who painted it live during Stephens 2019 album release show. 
          This new album, musically, has all the fixings to stand tall among the dense forest of modern indie music. Each track is unique yet, each threads to the next, to make the album a cohesive unit. Something waits inside for listeners of all bents and backgrounds. There is no industry pigeon hole to dump the album into. The influences are broad and the message is deeper than the shallow wading pool which the modern music business has grown all too comfortable in. 
Rodgers says "Whether or not thousands of people hear this album and whether or not it becomes a 'profitable product', I needed to get this music off my chest, if for nothing else than to heal from some past wounds and disappointments"