Bio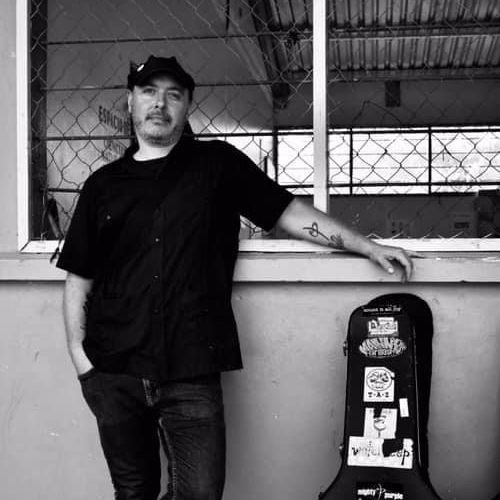 Stephen Peter Rodgers
Songwriter. Artist. Lover of life.
Stephen Peter Rodgers is a nationally recognized singer, songwriter and visual artist who has spent more than a quarter of a century engrossed in the New England music community. He has performed across the United States and overseas. Stephen is most well-known for his nearly 20-year stretch as leader and co-songwriter of the 90s/2000s alt/rock/folk band Mighty Purple and also for his 15-year adventure as the Founder / Director of The Space (an all-ages music venue) and of The Outer Space / The Ballroom (a music venue & craft beer hall). Both were nationally recognized music venues and regular tour stops for bands of all shapes, sizes and genres. (Stephen and his brother are now separated by 3,000 miles, but they still reunite with their band mates a couple of times a year to play Mighty Purple songs in Connecticut and beyond.) The venues that Stephen founded came to their ends in early 2018. After a difficult time of transition Stephen's heart was filled by a sense of thankfulness, healing, and a renewed sense of community that is evidenced in his new album and in his life's direction. 
He has traveled twice to Honduras on missions trips in which he taught Honduran teens how to play guitar while he helped to serve the daily needs of the Children's Rescue Mission in Tupesinti, Honduras. Stephen in conjunction with First Act Guitars gathered 30+ donated guitars which he and his team brought to the mission.
Back home, Stephen has quietly been creating an arsenal of miniature art as well as a body of new songs. He released his latest album in April 2019 with a sold out show at the State House in New Haven CT. Stephen toured throughout the northeast for the remainder of 2019 making new friends & listeners at every stop. The new album was played on over 100 radio stations nationwide and was critically acclaimed by many press outlets in the northeast and beyond. Stephen also spent 8 weeks immersed in building an expansive highly detailed miniature winter wonderland. The Miniature world was on display at Nationals Ballpark in Washington DC for the Enchant Christmas festival, for the 2019 Holiday Season. Stephen also built miniature sets for Enchant and installed them at the Enchant Christmas festivals in Seattle, WA & St Petersburg FL
When the pandemic brought the world to a halt in March 2020, Stephen immersed himself into songwriting and recording. In less than a year he wrote over 30 songs and is currently working towards releasing new music in 2021.
He is a homeschool dad to his two children Fable and River. He and his wife Jesse create art in their home and in their small barn; which Stephen made from 85% recycled and found materials. Stephen builds highly realistic miniatures and nationally acclaimed custom fairy houses, dollhouses, dioramas, miniature train layouts, and more that inspire fans in new ways.